Darjeeling, by Jeff Koehler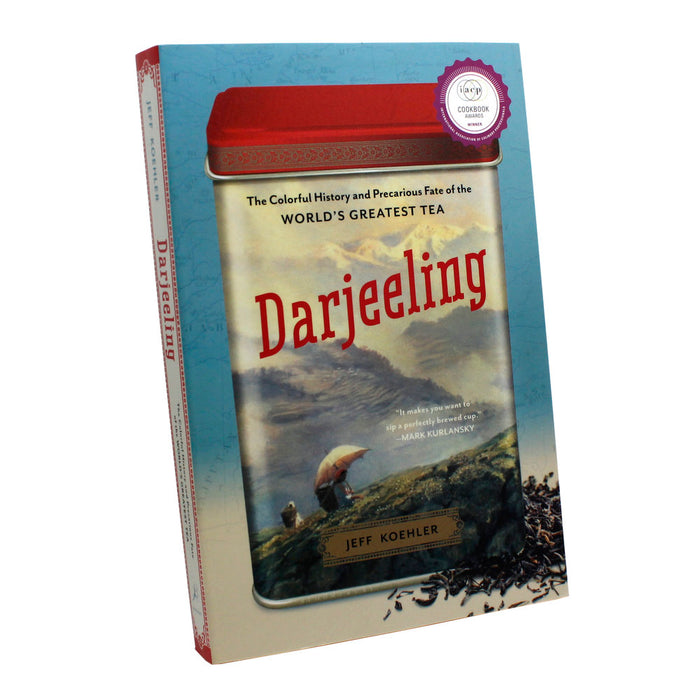 Darjeeling's tea bushes run across a mythical landscape steeped with the religious, the sacred, and the picturesque. Planted at high elevation in the heart of the Eastern Himalayas, in an area of northern India bound by Nepal to the west, Bhutan to the east, and Sikkim to the north, the linear rows of brilliant green, waist-high shrubs that coat the steep slopes and valleys around this Victorian "hill town" produce only a fraction of the world's tea, and less than one percent of India's total. Yet the tea from that limited crop, with its characteristic bright, amber-colored brew and muscatel flavors—delicate and flowery, hinting of apricots and peaches—is generally considered the best in the world.
This is the story of how Darjeeling tea began, was key to the largest tea industry on the globe under Imperial British rule, and came to produce the highest-quality tea leaves anywhere in the world. It is a story rich in history, intrigue and empire, full of adventurers and unlikely successes in culture, mythology and religions, ecology and terroir, all set with a backdrop of the looming Himalayas and drenching monsoons. The story is ripe with the imprint of the Raj as well as the contemporary clout of "voodoo farmers" getting world record prices for their fine teas—and all of it beginning with one of the most audacious acts of corporate smuggling in history.