January 28, 2022
A Tea Garden With a Social Mission: Bermiok Estate in Sikkim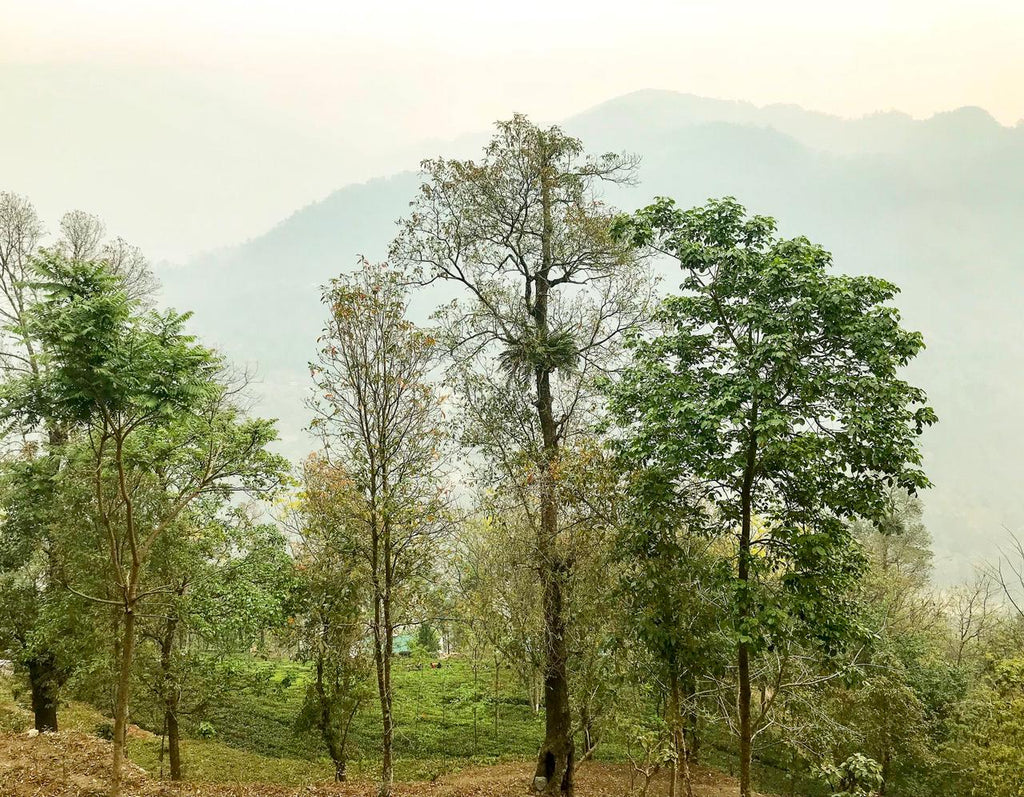 It's been several years since we met Nikhil Pradhan, the co-owner and general manager of Bermiok Estate in the northern Indian state of Sikkim. And now, for the first time, we're delighted to add one of his productions to our collection. This Sikkim 2nd Flush, made in the same way as second flush teas in Darjeeling, is a beautiful tea. An intoxicating aroma of tropical fruit floats above the long, carefully twisted leaves as they infuse, and the rich, round flavor—with hints of walnut and tobacco leaf—is deeper than a classic Darjeeling 2nd Flush.
Sikkim is India's second smallest state. Prior to its annexation in 1975, the kingdom was ruled by a Chogyal, a Buddhist leader. Agriculture was the economic driver of this rural region, but despite being colonized by the British Empire as a protectorate in 1890, Sikkim didn't experience the heavy tea industry development that Darjeeling—just to its south—saw in the 19th century. As a result, the state is home to just two tea gardens. There is Temi, which was established by the Chogyal in 1969 and now owned by the Indian government, and Bermiok, which began planting in 2003.
Longevity in the tea world is measured in generations. "We're still a very young garden in the scheme of things," Pradhan says.
There's a lot of promise in a burgeoning 15-acre garden like Bermiok. From the start, its now-25,000 tea plants have been managed with organic methods, pre-dating the Sikkimese government's 2013 mandate of organic agriculture for all farms within the state, the first policy of its kind anywhere. Bermiok's small yields—1.5 to 1.9 tons of tea per year—means the garden focuses on high quality production, as it can't compete with larger commodity growers. While the pandemic has made international sales all the more difficult, Pradhan says, increased sales locally and across Sikkim have become a valuable source of revenue. "Most companies in small towns often miss the fact that they have a local market," he says. This is important for another reason: all too often, high value exports like specialty tea are priced out of reach of those who live at origin. Making products accessible in the immediate growing region is a true achievement towards sustainable agriculture.
Of course, small tea farming comes with plenty of challenges. The steep, rocky roads leading to Bermiok make it difficult to bring in equipment and supplies. There aren't enough tea gardens in Sikkim for the Tea Board of India to consider it an official region, so were Bermiok to sell its tea at national auction, it would be lopped in with Darjeeling or another region. "The odds are always stacked against a small plantation," Pradhan says. "For us, sustainability means finding the market, locking in the tea flavors, and locking in buyers who support us. Then we can grow more confidently." The team plans to add 20 additional acres to the garden.
This multi-faceted view is one of the reasons we've been interested in Bermiok. The garden's founder, the late Bermiok Rinpoche Tashi Densapa, was a Tibetan Buddhist spiritual and cultural leader who was viewed as a reincarnation of a Lama's spirit. The Rinpoche was interested in developing Sikkim's economic opportunities in ways that benefitted the people without exploiting the land, Pradhan explains. "He was thinking about how to make a sustainable livelihood for people."
Pradhan and his wife Dolka Densapa, Bermiok's co-owner and the Rinpoche's daughter, took over the garden in 2015. Pradhan grew up in a tea farming household but had made a new career for himself as a consultant in Bangalore and Delhi. He never expected to return to the tea business, yet Bermiok's social mission drew him and Dolka back. "The garden was built on a social ideology, not to make huge profits," he says. "My father-in-law had vision and an altruistic spirit. Now we're taking it forward."
Taste Bermiok's Sikkim 2nd Flush
Tea garden photos courtesy of Bermiok Estate.