January 27, 2023
Our Favorite Tea Books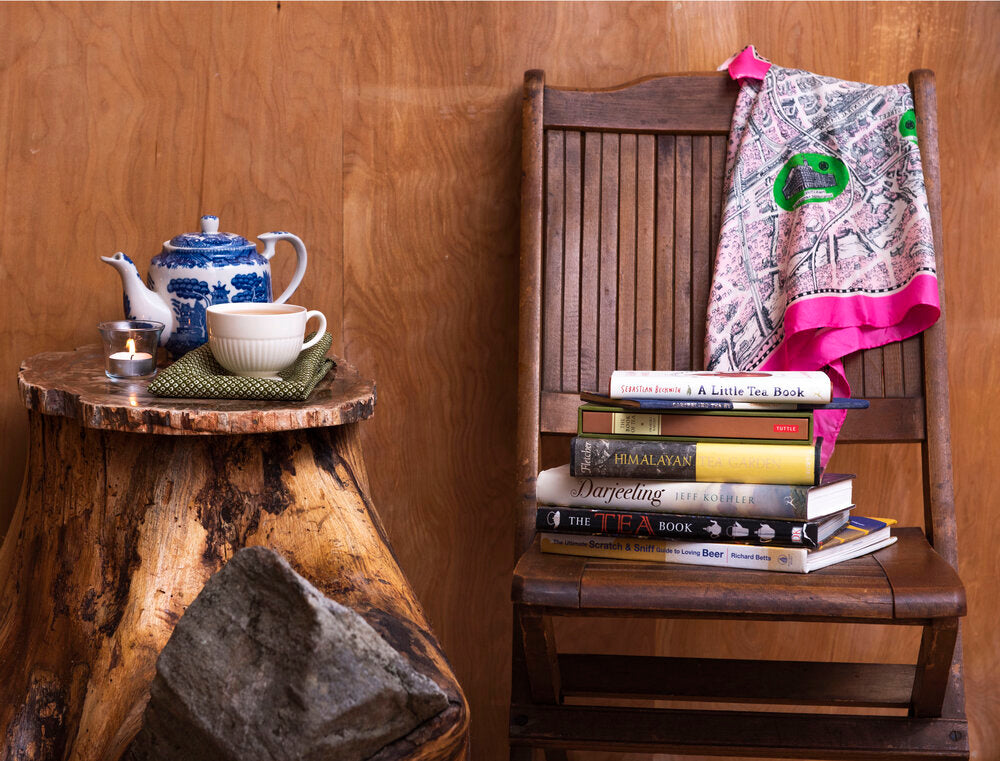 Time was, books about tea were few and far between. Books with accurate and insightful information, rarer still. But that was then and this is now, and there are more books about the history, culture, brewing, economics and biology of tea than ever before—so many that it can be difficult to know where to begin.
Amidst this wealth of options, we've curated a short collection of books that speak to the best of tea storytelling scholarship. Below, a look through our library, and why we love these engaging titles.
A Little Tea Book, by Sebastian Beckwith with Caroline Paul
From In Pursuit of Tea's founder, Sebastian Beckwith, comes a pocket-sized introduction to the wide world of tea. Written with author and fellow tea-enthusiast Caroline Paul, A Little Tea Book explores the cultural and political circumstances that led to the drink we know today, and how it spread across the planet. You'll also find cute illustrated charts and graphs that explain the intricacies of tea production and brewing. Call us biased, but page for page, you won't find a more accessible text about tea.
Culinary Tea, by Cynthia Gold
A gem of an epicurean tea book by chef and IPOT staffer Cynthia Gold. Written with Lise Stern for tea and food lovers in equal measure, Culinary Tea is an imaginative, in-depth cookbook with over 150 recipes that celebrate the flavors of tea. Learn how to select a tea for making traditional tea eggs and try Gold's brisk and buttery Assam shortbread. An innovative, inspiring book for tea drinkers in the kitchen. 
Darjeeling, by Jeff Koehler
The fascinating story of how Darjeeling tea began, written with novelistic flair and loaded with research from dusty archives and on-the-estate reporting in the foothills of the Himalayas. Darjeeling tells a tale of intrigue and empire, beginning with one of the first cases of industrial espionage and concluding with reflections on the region's tenuous future. Along the way, Koehler introduces you to Darjeeling's curious characters and expansive ecology. One of the most exciting and educational books about Darjeeling that we've seen.
Puer Tea: Ancient Caravans and Urban Chic, by Jinghong Zhang
Over the past 30 years, pu-erh tea has grown from a little-known product of ethnic minorities in China's Yunnan province to a fetish object of fascination for collectors, with prized vintages fetching five-figure bids at auctions. In Puer Tea, anthropologist Jinghong Zhang traces this dramatic rise and its social and economic implications for the people who make—and drink—this unique fermented tea. A scholarly text for those who love to dive deep, and an exploration of how something as simple as a pot of tea can transform a whole society.
The Japanese Tea Ceremony, by A. L. Sadler
Rich in tradition and ritual, Japan's tea ceremony is a fascinating window into its culture. First published in 1933 as Cha-no-yu by the Japan scholar A. L. Sadler, The Japanese Tea Ceremony remains the gold standard for books on this 500-year-old tradition. A true classic and a must-read for lovers of all things matcha.
The True History of Tea, by Victor H. Mair and Erling Hoh
If A Little Tea Book is a breezy guide to tea, The True History of Tea is a definitive read. Victor H. Mair and Erling Ho survey the rise of tea in traditional regions across Asia, and consult ancient Persian, Mongolian, and Arabic annals to illustrate tea's winding journey through the world. The resulting narrative takes the reader from the jungles of Southeast Asia to the splendor of the Tang and Song Dynasties, from the tea ceremony aesthetics of medieval Japan to the fabled tea and horse trade of Central Asia, and from the advent of Britain's love affair with tea to the tea party that sparked the American Revolution. One of the best overall tea books we've encountered in recent years.
Ready to curl up with a cup? Explore our collection of tea books here!