January 29, 2021
The Taste Index: How to Pick a Tea Based on the Flavors You Love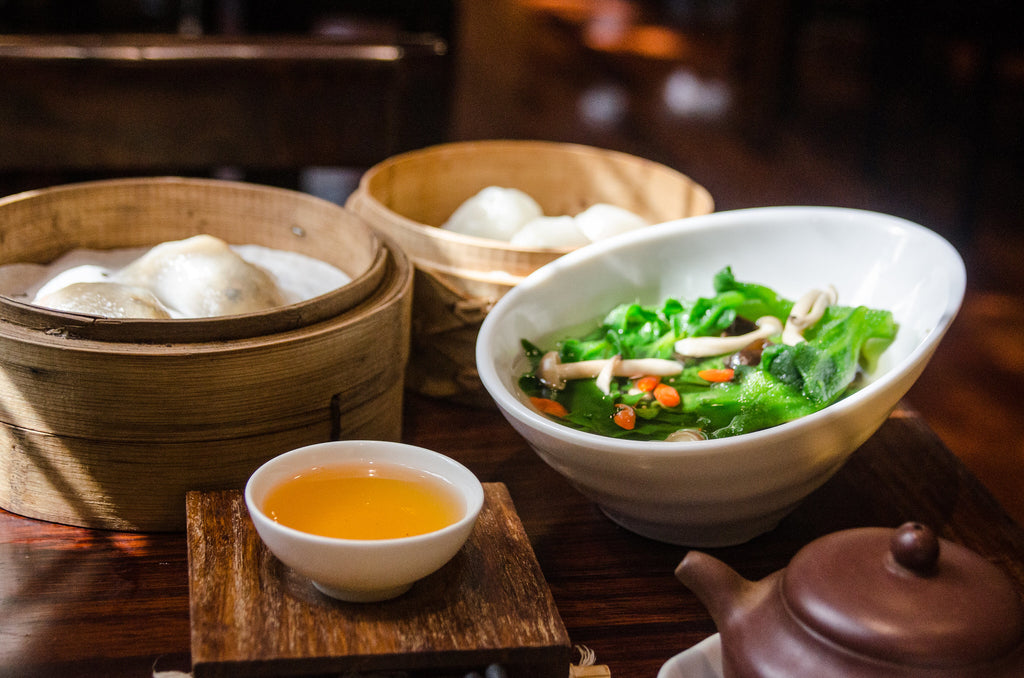 If you're just beginning to learn about tea, it can be tough to know where to begin. Even within clear categories like green tea or oolong, individual teas can taste wildly different from one another. While certain regions tend to produce teas of a specific character—80% of tea grown in Japan is green tea processed more or less the same way—there are exceptions everywhere. What's a budding tea drinker to do?
Perhaps the best place to begin is with your own personal tastes. At the tea table, we often ask new drinkers what other beverage flavors they tend to enjoy, such as crisp, minerally white wine or nutty dark roast coffee. Then we find teas that hit similar notes. (This gets really fun in organized pairings, like our upcoming chocolate and tea pairing session on February 20th.)
Here is a guide to help you figure out your own tea tastes, with our recommendations for the styles we think you'll love.
Grassy and vegetal
If you savor fresh flavors like spring peas and baby spinach, green teas may be for you. But not all greens taste the same. The two most significant regions of green tea production are China and Japan. Chinese teas tend to be pan-fired or oven dried to halt oxidation, emphasizing subtle aromas and a delicate toasted flavor; Japanese teas are instead steamed, which coaxes out deep marine accents.
Floral and fragrant
Many teas are processed in ways that specifically highlight their aroma, often with a distinctive floral character; less grandma's perfume and more field of wildflowers in July. These teas tend toward a light to moderate body, with creamy sugar cookie undertones.
Citrus and sunshine
There's nothing like that spray of citrus oil on your fingers when you tear apart the first clementine of winter. If the heady breeze of fresh lime—or pleasingly bittersweet orange marmalade—calls your name, dip into these bright teas.
Ripe and fruity
If you seek out the cherry notes of a Pinot Noir or are first in line at the farmers market for summer peaches, you may prefer teas that are moderately to heavily oxidized, such as oolong and black teas, and with less astringency, which allows their fruity character to shine through.
Woody and arboreal
Some teas capture the feeling of a walk in the woods or opening an old cedar chest. These tend to be heavily oxidized, made from larger leaves, and hit further back in your palate. Their sweetness, while present, is more subtle than the teas mentioned above.
Chocolate and nuts
Rich and roasted, soft and comforting, bedfellows chocolate and nuts merits a flavor category all their own. There's a lot of crossover between the oxidation and roasting process of cacao and Camellia sinensis, most notably in heavily oxidized black teas from the Himalayas and parts of China.
Savory and strong
Good tea isn't just about sweets and scones. While it can't match the salty punch of a kosher dill pickle or a dry sherry, some teas exhibit a distinct savory quality. This can be the result of processing or the leaf itself; l-theanine, an amino acid with calming properties, also contributes a richness to some teas.
Smoke and charcoal
Fans of smoked cheeses and live-fire cooking have a lot to discover in tea. Smoky flavors can be added to tea during drying or in a subsequent roasting step. When done right, this processing enhance the inherent flavors of the leaf without obliterating them.
Earthy and fermented
If you love caramelized mushrooms and getting your hands dirty in the garden, look for heavily oxidized and fermented teas. You'll probably enjoy shu pu-erh, a tea that's pile-fermented to develop a rich and earthy character, brews thick like molasses, and is easy on the stomach. There's a reason it's so often served with dim sum as a digestive aid.